Office Policies
Appointments, Exams, Testing and Surgical Procedures
You can make an appointment at either our Syracuse or Auburn locations. You may also request or cancel an appointment through your Patient Portal Account. The Receptionist will help you make an appointment that is convenient as possible. Please state which office you would like to be seen at and which provider you would like for that visit. Please keep in mind that all of the providers rotate between the two offices, as well as perform surgery and delivery babies.
Routine Yearly Exam
Routine Yearly GYN screening exams should be scheduled at least 4 weeks in advanced. You can also request an appointment through your Patient Portal Account.
Problem/Comprehensive Exam
For a health problem or concern, please DIAL 315-492-5915 option 4 and speak to a triage nurse. The triage nurse will make the appropriate appointment. You will be offered the location and the provider that can accommodate your schedule, however we cannot guarantee that you will see your provider or the location of your choice.
DO NOT REQUEST AN APPOINTMENT THROUGH THE PATIENT PORTAL FOR AN URGENT ISSUE/PROBLEM VISIT. IF YOU ARE HAVING A TRUE MEDICAL EMERGENCY CALL 911.
Missed/ No show's/ Late and Cancellation of Medical or Surgical Appointments
In order to maintain a timely schedule we require the cooperation and prompt arrival of our patients for their appointment. If you are unable to keep your scheduled appointment contact our office within 24 hours to reschedule or cancel. Otherwise ALL Missed /No Showed appointments are charged a fee $30.00 - $100.00 depending on the appointment type, payable by you the patient. and not your insurance carrier.
All surgical cases cancelled will be charged a $100.00 fee.
Preventative Screening Exams vs. Comprehensive Exams
Your annual preventative gynecological screening exam is considered a screening exam. This exam includes; counseling, guidance/risk factors reduction interventions, ancillary studies involving routine laboratory , breast exam, pelvic and vaginal exam, review of your menstrual cycle, medications, life style health habits, family, social and past medical history. An annual GYN screening exam does not necessary include a annual pap smear. We follow ACOG and ASC Pap Smear guidelines as well as a patient's past medical and sexual history. You may also have a pap smear other than at your yearly screening visit. However, you may be billed for a comprehensive exam and your insurance may not cover the exam in full.
A comprehensive exam is an Evaluation and Management exam or a problem visit consist of history, exam, medical decision making-establishing a diagnosis and/or information that must be obtained reviewed and analyzed. the number of diagnosis and/or the number of management options that must be considered. the risk of significant complications, morbidity, and/or mortality, as well as comorbidities, associated with the patient's presenting problem(s), the diagnostic procedure(s), and /or the possible management options. A new or old problem or issue is reviewed or addressed it may not be inclusive component of a preventative screening exam. An Evaluation and Management exam will be billed in addition to a screening exam. A copayment, co-insurance or deductible may be applied and collected at the time of service.
Surgical Procedures
We try to schedule surgery that is accommodating and pleasant to the patient by creating a beneficial atmosphere for all involved. After you meet with a physician and it has been determined that you are going to be scheduled for surgery, we follow steps to ensure proper pre-operative preparation, financial coverage and cost, scheduling surgery and post-operative care is addressed. A surgical scheduler will contact you within 7-10 business days to go over the surgery process, available dates, pre-testing and surgical consents. Your insurance company is contracted and benefits are reviewed, copayments, co-insurance, deductible amounts are determined and authorization is requested. We make a very diligent attempt to receive accurate insurance information, however we advise every patient to review their insurance policy and financial information received. As stated by insurance carriers "Verification of coverage and documentation of prior authorization is NOT a guarantee of payment. Actual plan coverage and benefit payments are determined AFTER services are rendered and the claim is received."
After Hours & Emergency Care
For Emergency Care after hours, please call (315) 492-5915 and follow the instructions to speak with the answering service that will connect you directly to a provider. In the event of a power outage or a malfunction with our phone system, you may call Total Recall Answering Service at 1-800-724-2637 or 1-607-739-1650
We close for lunch from 12:00pm - 1:00pm
Prescription Renewals/Request
Prescription refill request must be faxed to us from your pharmacy. WE DO NOT CALL ANY PRESCRIPTIONS IN AFTER HOURS OR WEEKENDS. Please make sure that all prescriptions are reviewed at your appointment.
Antibiotics require an appointment; if the office is closed please go to the nearest Urgent Care.
No prescription, including contraception will not be refilled unless your annual exam is current. If you are overdue for your annual pap smear, you will be required to schedule an appointment before a prescription is refilled.
Prescriptions are E-Prescribed or sent electronically through Surescripts.
Narcotic medication may require an office visit.
As, of August27, 2013 providers are required to check with NYS Prescription Monitoring System when a narcotic is prescribed. Providers are obligated to encourage education, protect and implement I-Stop Laws of 2012, chapter 447.
You may access your patient portal to request a prescription refill.
Be sure that your pharmacy information is updated at each visit or through your patient portal.
Changes to a prescription medication can only be completed by a medical provider.
Financial, Billing and Insurance Information
Patients will be asked at every appointment for their current insurance card. A valid drivers license or photo ID is required by law, you will be asked to present this documentation at your initial visit. A photo will also be taken and scanned into your medical record for identification. Patients who do not have a current insurance card at the time of service can choose to reschedule their appointment or be considered a self pay patient, where payment will be expected in full for the service rendered. It is your responsibility to notify Advanced Ob-Gyn PLLC of any demographic, phone numbers or insurance information changes to avoid penalties or disruption in patient care.
Insurance
We are contracted with multiple insurance carriers, that we accept assignment with. We will bill those insurance carriers with which we have an agreement with and you will only be required to pay the authorized copayment, co-insurance or deductible amount at the time services are rendered. For insurance companies that we do not have a contract with you will be required to make payment and get reimbursed by your insurance company. We will supply you with an itemized bill to submit. Failure to supply Advanced Ob-Gyn PLLC with accurate current insurance and demographic information may result in the patient being financial responsible for the entire bill from Advanced Ob-Gyn and other vendors, providers involved in your care.
Proof of Insurance
We must obtain a copy of your current drivers license and current insurance card to provider proof of insurance. We will also take a photo ID for your medical record. Your drivers license and insurance card MUST match the name on your insurance card. If the names do not match exactly this can result in cancellation of your appointment and/or surgery performed in the hospital.
Copay's, Co-Insurance and Deductibles
All copayments, co-insurance and deductible amounts are expected at the time services are rendered. Copayment amount are listed on your insurance card. Under the Affordable Care Act copay's, co-insurance or deductible amounts do not apply for a Preventative Screening Exam. If a Evaluation and Management Exam or a procedure is preformed in conjunction with a screening exam then your copay, co-insurance or deductible is due at the time of service.
Forms of Accepted Payment
Advanced Ob-Gyn accepts cash, checks, Visa, MasterCard, American Express, Discover, Bank Debit Cards, Health Savings or Flex Spending Cards. If you are uninsured or have a large personal balance, please contact the Billing Office at 315-492-5449 to set up a reasonable payment arrangement.
Care Credit may be a financial option for patients. Its easy to apply and you will receive an answer almost immediately. When you use Care Credit for purchases of $200.00 or more you can choose special financing option that's best for you. There is NO Interest if Paid in full within 6,12, or 18 months. Care Credit gives you flexibility and convenience when managing out of pocket healthcare expenses. You can contact our Billing Office (315)492-5449 to inquire about Care Credit or visit their web site and apply online at www.carecredit.com or call directly at 1-800-365-8295.
Refunds
Patient refunds will be given for any patient payment that was over paid after a claim has processed by your insurance carrier. refunds are processed monthly. Any account that has an outstanding balance will not be eligible for a refund until your account is paid n full.
Return Checks
Return checks for non-sufficient funds represent a cost to us and to you. We reserve the right to charge a fee associated with checks being returned. You account will be blocked for further prescription request and appointments until your account is cleared. Your account may be turned over to an outside collection agency with further associated collection fees added to your account.
Referrals and Authorization
If your insurance company requires a referral or authorization you are responsible for obtaining notification or notifying our office if it is required prior to services being rendered. We will assist you if necessary. Most insurance referrals need to come directly from your Primary Care Physician Office. This may include medication, laboratory services, radiology services and referrals to other physician offices and facilities. Failure to obtain authorization may result in a lower reimbursement or non payment from your insurance carrier.
Medicare Insurance
Our office does participate with Medicare and agrees to bill and accept contractual adjustments. There may be services or supplies rendered or prescribed that may not be covered by Medicare, including annual GYN Screening exams, routine Obstetrical care.
An ABN is a form with a list of items or services that Medicare is not expected to pay. An ABN will give you information to make a choice on whether or not to get the items or services, with the understanding that you may have to accept responsibility for payment. You will have the right to refuse services if you decide to forgo payment.
Medicaid
We accept NYS Medicaid and Medicaid Managed Care Plans; UnitedHealthcare-Community Care Plan, Fidelis Care, All Medicaid patients MUST provide the necessary eligibility identification and have eligible active coverage at the time services are rendered. If you do not have active coverage at the time of service you will have the option to be considered "Self Pay" and make payment for services in full or reschedule your appointment.
Laboratory, Radiology and Other Diagnostic Testing
A provider may order services or testing during your visit, these services are billed by outside vendors. Payment and billing disputes associated with these outside agencies must be directed to their billing agents directly. Depending on labs performed you may also receive a bill from Advanced Ob-Gyn PLLC as well as from an outside vendor. Check with your insurance carrier to verify a list of labs, radiology and hospital participation. You may also want to check what your benefit is for laboratory, mammogram, x-ray, ultrasound, outpatient and inpatient, obstetrical, newborn and nursery benefits are.
Finance Charges
Advanced Ob-Gyn does not charge a finance charge on open balances. We try diligently to work with our patients for any unpaid balance. It is important to communicate with our billing department if you are having financial difficulties or are experiencing financial hardship. Under special circumstances payment arrangements can be made.
If your account is over 90 days past due, you will receive a letter stating that you have 20 days to pay your account in full. Partial payments will not be accepted unless prior arrangement have been negotiated. Please be aware that if a balance remains unpaid, we may refer your account to a collection agency.
Accounts that are transferred to an outside collection agency additional finance charges are added to your account. Accounts transferred to a collection agency will not be able to schedule appointments or receive prescription refills. Collection balances MUST be paid in full to continue to receive care.
Disability, Attending Physician or FMLA Forms
There is a charge of $5.00 for NYS Disability Form and a $10.00 fee for FMLA form for the review and completion of each medical form. This fee is billable to you prior to the completion of each form(s). Completed form can be picked up or mailed to the patient. The patient is responsible for submitting form to their employer or insurance carrier. Please allow 7-10 business days for the paperwork to be completed.
Patient Portal
We encourage all of our patients to communicate with Advanced Ob-Gyn through the patient portal. You can request appointments, prescriptions, communicate with the office when it is convenient for you. Our Patient Portal is a secure, confidential and easy to use website that gives patients 24 hour access to their medical record. All messages with the practice are encrypted. Once, you receive your unique activation code from the office you can begin access to your medical record, you can view information, download your chart or transmit information to our office or to another party. Please contact the office if you have not received or need to have your activation code reset.
Maternity Care
Our goal is to ensure your health and to maximize your comfort during your entire pregnancy. To foster a positive birth experience and to ensure that you're newborn has the very best start in life. With our comprehensive services and a team of highly qualified, skilled and compassionate Physicians, Nurse Practitioners and Certified Midwives to guide you through your pregnancy, delivery and postpartum, to safeguard you and your newborn to remain healthy. Our providers are hear to answer your questions.
Advanced Ob-Gyn's physicians and midwives can be reached 24 hours a day for emergencies. Our regular business phone number(s) are Syracuse Office 315-492-5915 and our Auburn Office 315-255-5945. These phone numbers are also our after hour emergency numbers which are forwarded to our answering service Total Recall Answering Service. In the event of a power outage or a malfunction with our phone system, you may call Total Recall directly at 1-800-724-2637 or 1-607-739-1650 Total Recall will have the On-Call provider return your call as soon as possible.
You will receive care by each of our providers; Dr. Marziale, Jan Beaman, N.P., C.N.M., and Catherine Jordan, NP throughout your pregnancy. You understand and agree that is necessary that you see each provider throughout your pregnancy. You also agree that you cannot request a specific provider to perform your delivery or to take care of you in an emergency. Because, our office shares "On-Call" coverage with other providers outside of our office, you understand and agree that it may be necessary for you to see another provider during your delivery and hospital stay. You understand and agree that you may be attended by a male or female provider for your delivery or hospital stay. Refusal to see any provider may be grounds for dismissal from our practice.
Obstetrical Appointments
For an obstetrical appointment the initial appointment is routinely scheduled with Jan Beaman, CNM or Catherine Jordan, NP. Initial OB exams are scheduled around 8-10 weeks of pregnancy. It is a comprehensive physical exam, prenatal labs, pap smear, cervical and vaginal cultures and consents are obtained at this visit. Routine blood work is again done around 24 weeks of pregnancy. The initial OB visit to 26 weeks of pregnancy are scheduled every 4 weeks. 27-36 weeks of pregnancy are scheduled every 2-3 weeks and 36-40 weeks of pregnancy are scheduled weekly. This schedule is individualized and based on your pregnancy needs. If you are in Labor, please call 315-492-5915 where you will be forwarded to a nurse or a medical provider for assistance.
Post Partum Appointments
You are seen for your post partum appointment 4-6 weeks after you deliver for a vaginal delivery and 6-8 weeks for a cesarean delivery. It is important that you call for your appointment as soon as possible, so that we can accommodate your exam within this time frame
Obstetric Global Billing
Advanced Ob-Gyn will bill globally for your obstetrical care which is one fee to your insurance carrier for routine visits relating to your pregnancy(13-14 visits), a post partum exam and your delivery; vaginal or cesarean. For non routine or sick visits, labs, ultrasounds, non stress test, are billed at the time of service and are not included in the global fee and are billed at the time service is rendered. Copayments, Co-Insurance and Deductible amounts may apply and are due at the time of service.
Our billing department will try to obtain your Obstetrical benefits including copay, co-insurance and deductible amounts that may be due. We are authorized by your insurance company to collect any copayments, co-insurance and remaining deductible prior to your estimated delivery date payable by your 28th week of pregnancy.
Ultrasounds
An ultrasound to view your baby's anatomy is usually performed at approximately 20 weeks of pregnancy. Your baby's heart, spine, kidneys, limbs, brain, an exam of the placenta, cord ad amniotic fluid will also be examined. Your spouse/significant other or family member(s) or a friend are welcome to accompany you. If you wish to know the sex of your baby let the sonographer know at this time. There is a chance that they may not be able to tell the sex of your baby. We do not order ultrasounds specifically for obtaining this information. We prefer that your sonogram be scheduled in our office, however depending on your insurance you may need to be scheduled with an outside vendor. We prefer NOT to schedule your OB visit and your ultrasound appointment on the same day, as this creates scheduling conflicts, time constraints and space within our office.
Circumcision
If you elect to have a circumcision performed on your son, our covering physician may perform a circumcision prior to your son being discharged from the hospital. A provider will go over the procedure with you and have consents signed prior to the procedure. It is important that you contact your health insurance company or Human resource Department at work in a timely manner to add your newborn son to an insurance policy. Insurance plans may require documentation prior to adding your newborn to a policy such as a social security number or a copy of the birth certificate; these forms are routinely filled out prior to you being discharged from the hospital. You will be given a form from Advanced Ob-Gyn requesting billing information, it is important that this form be returned to our office, so that we can bill the insurance in a timely manner.
Non-Covered Maternity Benefits
Not all maternity services are a covered obstetric benefit with all insurance carriers. It is important that you understand the provisions of your individual policy. Insurance companies select certain services that they will not cover; therefore we cannot guarantee payment of all claims by your insurance carrier. Some examples of non-covered services are contraception and fertility. Additionally, some plans may not cover preventative GYN care or obstetrical services including; labs and specialty labs; Materni T21, sequential screening, CF Testing. Our nursing staff can provide you with the necessary insurance information, so that you may call to see if a certain test is covered.
Why active your Patient Portal???
Our Patient Portal is a secure, confidential and easy to use website that gives patients 24 hour access to their medical records.
You may visit your personal health record anytime that is convenient for you. Simply visit our website at www.advancedob-gyn.com and click on the Patient Portal Link.
Once enrolled you can access you're: Health Summary Record, Laboratory Test Results Appointment History and Request Non-Urgent Appointments, Medications and Request Refills, Send a Message to the Office, Receive Electronic Billing Statements and make payments and receive receipts.
Ask our staff how you can join the Patient Portal.
You will need an e-mail address and access to a computer connected to the internet.
When you log into the Patient Portal at www.advancedob-gyn.com for the first time, you will have the opportunity to create a unique login user name and password.
Once logged in, you can begin to access your medical record at any time. You can VIEW information for accuracy and play an active role in your health care.
You can DOWNLOAD your chart summary, to bring with you to other medical appointments.
You can TRANSMIT messages electronically to the office or another third party.
All communications sent via the patient portal will be included in your patient record and be maintained by the practice. All messages sent through the Patient Portal are encrypted. The Patient Portal has an "audit trail" feature that keeps a record of who accessed your information and what changes were made, and when.
All reasonable efforts are made to respond to non-urgent inquires within 48 business hours. Please do not communicate if there is an emergency or you are in Labor or Urgent need for communication; in that case call 911 or go to the nearest emergency room immediately.
Still have questions?
What is the Medent Patient Portal? The Medent Patient Portal provides you with a secure Online Access to portions of your medical record, as well as an easy and convenient way to communicate with the practice through a secure internet connection. Messages with the practice thru the portal are encrypted.
How is the Patient Portal Secure? The Patient Portal uses HTTPS to provide encrypted communication between you and your provider. Access to you portal account is controlled through secure access codes, personal ID's and passwords. Only you have access to the login information needed to view your account. The office does not have access to this information.
What do I need to use the Patient Portal? You will need access to a computer connected to the internet and an up to date browser (such as Internet Explorer, Safari or Google Chrome). You will also need an email address. The email address you provide is only used to notify you when you have a new message in your portal account. It is treated with the same privacy and care as your health record and will NEVER be sold or leased.
How do I sign up? In order to have a Patient Portal Account you need to already be a patient of Advanced Ob-Gyn PLLC. To activate your account you need to receive an activation code from the office. Once you have received the code, you will be able to create your own username, password and other login information used to verify identity. If you would like to activate your portal account, please contact the office to receive you activation code.
What are the benefits of the Patient Portal? The Patient Portal helps you take a more active role in your healthcare. Having a patient portal helps the practice create a more accurate record of your medical history, as well as educate you on certain aspects of your health. It provides you and the practice with a more effective means of communication, eliminating source of frustration such as phone tag. You may request an office appointment, office staff will contact you via the portal's messaging system to confirm the actual date. You are also able to print or download portions of your chart such as lab reports and test results, to take with you to other provider appointments.
Activating you Patient Portal Account. Once, you receive your unique activation code from the practice, please go to our website at www.advancedob-gyn.com and click one of the links for Patient Portal. There is a link at the top right hand side of the page, the middle of the page under "Quick Access" and the bottom left hand side under the first picture. You may also view a tutorial on how to activate your account. Once you are ready "click" on the link "Activate patient portal account". You will be prompted to fill out some basic personal information, as well as create a login name and password. Be sure to enter your name and date of birth EXACTLY as it appears at the top of your activation letter. If your demographic information is incorrect, you will be able to make changes once you are in your portal chart.
What if I forget my password? If you forget your password you can request a new one be sent to your email address. Your password is automatically resent and you do not need to contact the office.
What if I forget my login name? If you forget your login name, you will need to complete a form on the portal and submit a login reset task to the practice. You will be required to enter your personal information, last name, first name, date of birth and email address. You will then receive a new activation code from the practice via letter form.
This web based patient portal is to be used for NON-URGENT issues only. Our Patient Portal is designed to help you monitor your personal medical records. It does not provide any emergency medical service. If you have a medical emergency, call 911.
NEED HELP? Contact us at Advanced Ob-Gyn PLLC, 4850 Broad Road, Suite 2C, Syracuse, New York 13215. 315-492-5915.
HealtheConnections
Please find the HealtheConnections form under the

Our Office

Tab on our website. Then go to Patient Forms; print, sign and bring the HealtheConnections Authorization Form with you to your appointment.
What is HealtheConnections?
HealtheConnections is the Regional Health Information Organization (RHIO) of Central New York. This company-based organization brings together hospitals and health care providers in the eleven counties of Central New York to increase the efficiency and overall quality of health care in the region.
One of the first steps in achieving better care is the creation of the HealtheConnections Health Information Exchange (HIE). The HIE connects all electronic medical information including histories, labs, reports and diagnostic test across all your regional healthcare providers. By making this information available to your providers HealtheConnections allows them to focus on providing you the best possible care.
HealtheConnections governs this health information exchange and provides patient privacy protections. Patients must provide their consent for participating provides to access their information.
Why is Health Information Exchange Vital?
HealtheConnections gives your authorized medical providers instant access to all of your essential health information. Before HealtheConnections, providers had to spend time tracking down this information from all of your health care providers.
Now, provides are able to spend less time obtaining patient information and more time diagnosing and treating patients - time that is especially critical in emergency and life threatening situation.
Where Does Your Medical Information Come From?
The information in HealtheConnections comes from the electronic medical records of participating health care providers who have provided you medical services, physician providers, and radiology and imaging centers.
How Will Your Privacy Be Reported?
HealtheConnections is committed to protecting the privacy and security of your information. Sophisticated security technology and detailed audit tracking is used. Health care information can only be accessed by and exchanged between patient-authorized and HealtheConnections-governed health care providers.
How Do You Participate?
The decision to participate in HealtheConnections is up to you. You must provide written consent for EACH of your health care providers to access and use HealtheConnections to provide medical care. Without consent ONLY in life-threatening emergencies can providers access HealtheConnections. You can elect to not participate in HealtheConnections by declining consent, whereby your information cannot be accessed-even in a life-threatening emergency.
What are the Benefits of Joining HealtheConnections?
Improved coordination of patient care. Your medical information is available across all of your participating providers.
Better emergency care. When time is of the essence, your providers will have instant access to vital information for diagnosis and treatment.
Fewer repeated medical test and procedures. Visibility of previously administered test, results, and services will help avoid unnecessary repeating of test.
Reduce risk of errors. Electronic medical records reduce errors caused by difficulties in reading hand written or faxed reports, prescriptions, and orders.
Greater convenience for patients. You'll no longer have to hand carry labs reports, radiology test results and images, prescriptions, and other medical information from provider to provider.
For more information about HealtheConnections go to:
www.healtheconnections.org
Phone: 315-671-2241
Email: info@healtheconnections.org
In This Section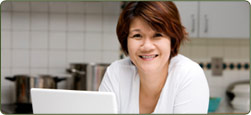 Health Library
View our online library of health care topics.
[ click here ]