About Us
Janice Beaman, NP, CNM
Jan Beaman CNM, NP earned her BS in Nursing at Syracuse University along with her MS in Nursing and certificate in Midwifery at SUNY Stony Brook. She holds New York State licenses as a Registered Nurse, Midwife and Women's Health Nurse Practitioner.

She worked in Labor and Delivery for 15 years prior to joining Advanced OB-GYN in 1999. Her philosophy is to offer focused, personalized care to each individual. She specializes in women's mental health issues.

She is a life-long resident of the Central New York area and a mother of three sons. She enjoys soccer, softball and skiing.

Jan is an active member of the American College of Nurse Midwifes. She chairs the Department of Midwives along with being a member of the Pharmacy & Therapeutics and Women's PI committees at Community General Hospital. In addition, she maintains the Midwifery statistics at CGH. She precepts students from SUNY Stony Brook midwifery, LeMoyne physician assistant and Syracuse University nurse practitioner programs.
In This Section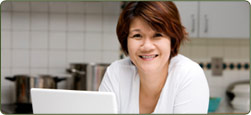 Health Library
View our online library of health care topics.
[ click here ]